Cardinal prayed for Daw Khin Kyi's dead anniversary (The mother of our beloved Daw Aung San Su Kyi)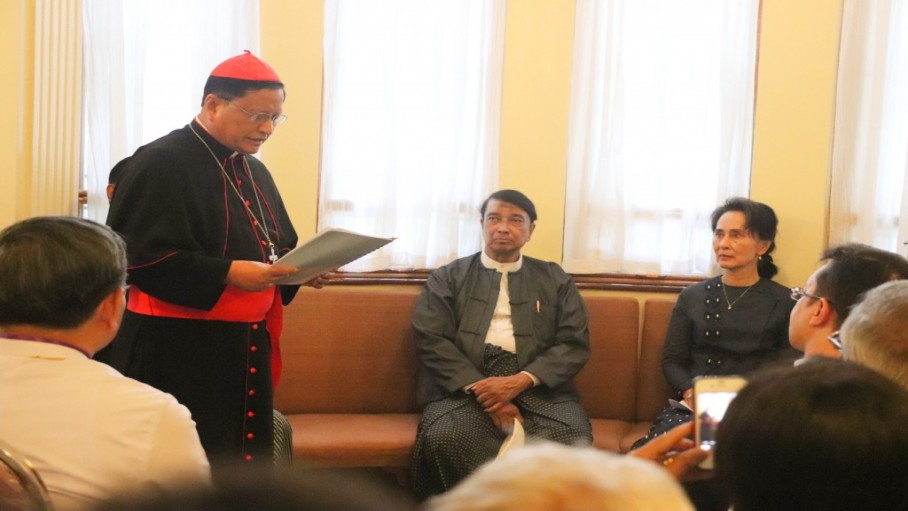 Cardinal prayed for Daw Khin Kyi's dead anniversary
Friday, December 27, 2019
THE  MOTHER
The  mother's  love is the foundation of humanity and the cure for a world often divided and filled with bitterness.
We praise mothers for the "heroism" they show "in self-giving, strength in compassion, wisdom in meekness,"  they are people who know how to take their children by the hand and "lovingly introduce them to life."
At times children can take the wrong path and, believing they are strong and free, they become lost and enslaved, forgetting the love of their mother and living in anger and bitterness, noting that while being "malicious" might at times seem to be a sign of strength, "it is nothing more than weakness."
A world that looks to the future without a mother's gaze is shortsighted. It may well increase its profits, but it will no longer see others as children. It will make money, but not for everyone. We will all dwell in the same house, but not as brothers and sisters,".
Humanity "is built upon mothers,"  "a world in which maternal tenderness is dismissed as mere sentiment may be rich materially, but poor where the future is concerned."
How much dispersion and solitude there is all around us! The world is completely connected, yet seems increasingly disjointed," Francis said.
Mary, he said, "is a cure for solitude and dispersion. She is the Mother of consolation: she stands 'with' those who are alone. She knows that words are not enough to console; presence is needed, and she is present as a mother."
He then noted how the day also marks the World Day of Peace, stressing that peace is not only reserved to those who govern, but "we are all responsible for the life of the city, for the common good."
"Politics is also good in the measure in which each person does their part in the service of peace," he said, and asked Our Lady to help and accompany people in their daily commitment to politics aimed at the common good.  
A Prayer for Mothers
Where would we be without our mother's love? Lord,
bless our mother with wisdom to teach and guide her
children in a way that will help them to follow You and
to become men and women who will be pleasing in Your sight.
Give the  mother the patience to deal with the difficulties
of their job and, most of all, give them a special blessing as
they care so lovingly for the gifts that You have allowed them the honor of raising.
Dear Heavenly Father,
Thank You for giving me the gift of a lifetime my mother. Hers is the greatest human love I will ever know. She is always putting our needs first. Teaching me, and showing me, what is just and what is worthy. It is Your will to leave life's prints, on the generations You give forth: Forgiveness that comes naturally. Seeking within for all answers. Knowing that the universe respects a pure heart. I am humbled by the experience of following my heart in moments of joy and inspiration. Thank You for giving me the gift of a lifetime; my mother.
Also God, please bless the mother  today. Grant her strength, health, joy, grace, laughter, freedom from guilt, and hope for the future. Give her a hunger to know Your love, to love You more, and to follow You every day. Amen.